WWG Co Pilot .44 Mag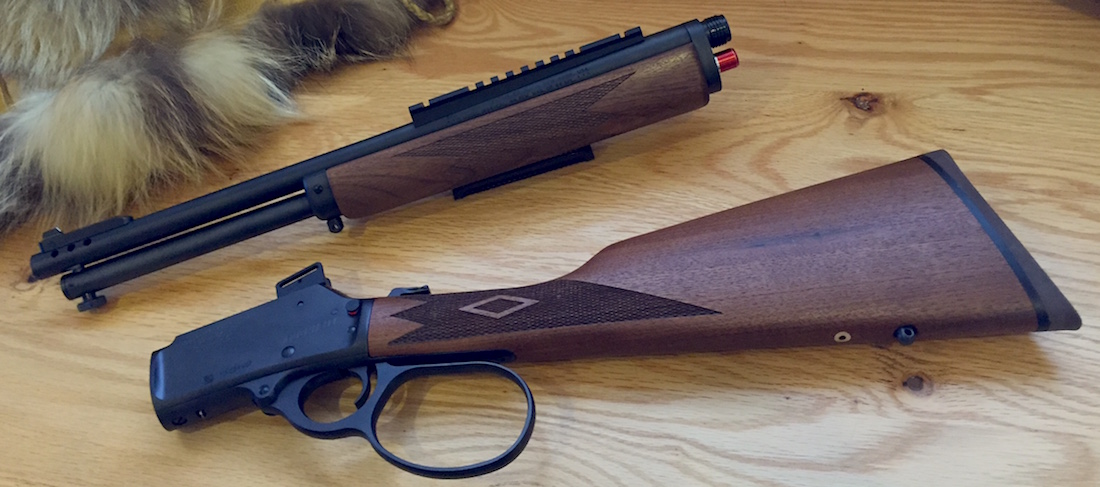 WWG .44 MAG Co-Pilot
The Newest Take-Down lever action rifle
The Next Generation of WWG CoPilots
With all of the versatility and reliability of the original 457WWG CoPilot comes the .44 Magnum WWG CoPilot. The smoothed and tuned action allows it to chamber almost every variety of .44 caliber ammunition (.44 Magnum, .44 Special and .44 Russian). Pair it with your favorite .44 Magnum revolver and you're covered for all adventures!…
A fast handling, heavy hitting 35 inch lever action rifle weighing approximately 6 lbs with an eight round magazine and minute-of-angle accuracy. The rifle is chambered in .44 Magnum, along with its small size and light weight makes it extremely versatile. The rifle features our recoil control porting and a soft rubber recoil pad to produce a surprisingly comfortable recoil which is favored by female shooters and kids alike.
Now imagine this rifle in a 17″ take-down configuration for easy transportation in your vehicle, boat, ATV, airplane or in a backpack or scabbard. There's only one rifle in the world with all these features – Wild West Guns' CoPilot now chambered in .44 Magnum. The CoPilot topped the list in "7 Favorite Truck Guns" by Petersen's Hunting.
No other rifle in the world combines such power and portability
Using precision machined parts, a hardened steel action and barrel are converted by American Gunsmiths into a takedown rifle. The action is modified to allow chambering of different .44 magnum caliber ammunitions. The 17 inch barrel is ported to reduce recoil and muzzle climb. Our original Ghost Ring Rear Sight and a WWG/XS solid blade front sight with high visibility insert are installed for fast target acquisition.
Before reassembling, a reliability tune is performed on the action for feeding, extracting and ejecting including installation of our Bear Proof Ejector, Aluminum Mag Follower and Big Loop Lever. As part of the reliability tune we also install our patent pending Trigger Happy Kit for a crisp, clean 3.5 – 4 pound (approximately) trigger pull. We fit a custom straight hardwood stock designed to be weather resistant and rugged. For easy scope mounting, a pica tinny style rail is added to the barrel half of the CoPilot which allows for quick attachment of holographic sights, scopes or red dots(Scout Scope Packages available). This rifle can be custom engraved and have a WWG laser light mount added. Finally, a full fit, finish, and function reliability test is completed and the gun is test fired before being shipped out. A compact soft carry case is provided with each rifle.
ORDER NOW – First run rifles are ready for immediate delivery.
From $3,479*
Order Now
* Subject to FET (Federal Excise Tax)
Chambered for 44 Magnum
Barrel cut and crowned to 17 inches
Take-down rifle
8 Round Magazine Tube
WWG Big Loop Lever
WWG recoil control porting system
Picatinny style forward mounted rail
Straight Hardwood stock
Action tuned for reliability and smooth function
WWG bear proof ejector installed
WWG trigger happy kit installed and set at approximately 3.5- 4lbs
WWG original ghost ring sight with threaded aperture
WWG/XS solid front sight with high visibility insert
Soft, padded carrying case
Test fired